Fifa 18 su console firma un vero a proprio monopolio mentre su Pc, The Sims 4 resiste in vetta. AESVI ha diffuso le nuove classifiche settimanali che vanno dal 25 settembre all'1 ottobre 2017 con questi verdetti.
Su console, il gioco calcistico di EA Sports occupa le prime cinque posizioni tra edizione standard, Legacy e Ronaldo Edition. In sesta piazza troviamo Destiny 2 per poi tornare a vedere Fifa 18 su Switch.
A chiudere la top ten console troviamo Overwatch GOTY Edition nonché Call of Duty Black Ops III Zombie Chronicles.
The Sims 4 rimane in vetta alla classifica Pc ma è incredibile come ad un predominio pressoché assoluto su console, non corrisponda neanche in minima parte un successo su Pc. Fifa 18 non entra nella top ten.
In seconda piazza su computer troviamo Call of Duty Modern Warfare 2 mentre il sequel diretto è in terza posizione. Total War Warhammer II è quarto mentre segnaliamo il decimo posto di Pro Evolution Soccer 2018.
Ecco tutte le graduatorie della settimana numero 39 stilate su dati GfK Retail and Technology. Buona lettura.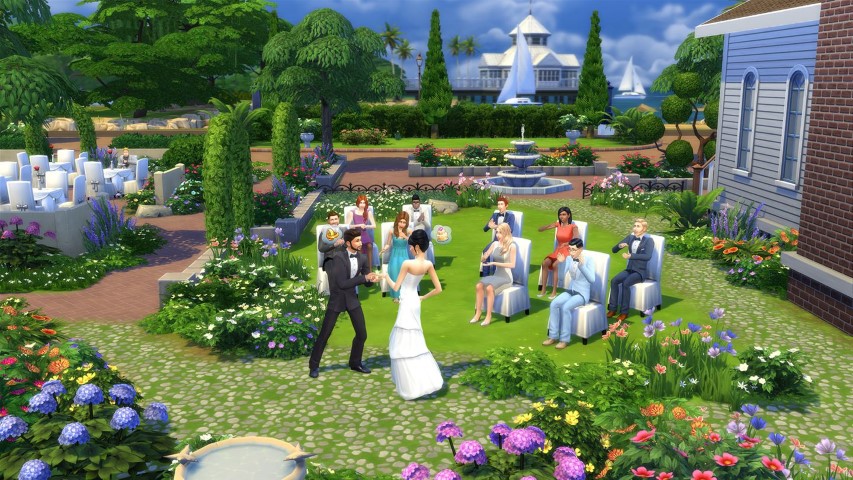 Classifica settimanale dal 25/09/2017 a 01/10/2017
TOP 10 CONSOLE GAMES
Posizione
Titolo
Piattaforma
Publisher
1
FIFA 18
PS4
ELECTRONIC ARTS
2
FIFA 18
Xbox One
ELECTRONIC ARTS
3
FIFA 18 RONALDO EDITION
PS4
ELECTRONIC ARTS
4
FIFA 18 LEGACY EDITION
PS3
ELECTRONIC ARTS
5
FIFA 18 LEGACY EDITION
X-BOX 360
ELECTRONIC ARTS
6
DESTINY 2
PS4
ACTIVISION BLIZZARD
7
FIFA 18
NINTENDO SWITCH
ELECTRONIC ARTS
8
FIFA 18 RONALDO EDITION
Xbox One
ELECTRONIC ARTS
9
OVERWATCH GAME OF THE YEAR
PS4
ACTIVISION BLIZZARD
10
CALL OF DUTY BLACK OPS III ZOMBIE CHRONCILES
PS4
ACTIVISION BLIZZARD
TOP 10 PC GAMES
Posizione
Titolo
Piattaforma
Publisher
1
THE SIMS 4
PC
ELECTRONIC ARTS
2
CALL OF DUTY MODERN WARFARE 2
PC
ACTIVISION BLIZZARD
3
CALL OF DUTY MODERN WARFARE 3
PC
ACTIVISION BLIZZARD
3
TOTAL WAR WARHAMMER II
PC
SEGA
5
CALL OF DUTY BLACK OPS II RE
PC
ACTIVISION BLIZZARD
6
TOTAL WAR WARHAMMER II LIMITED EDITION
PC
SEGA
7
CALL OF DUTY 4 MODERN WARFARE
PC
ACTIVISION BLIZZARD
8
GTA V GRAND THEFT AUTO
PC
ROCKSTAR GAMES
9
THE SIMS 4 AL LAVORO
PC
ELECTRONIC ARTS
10
PRO EVOLUTION SOCCER 2018
PC
KONAMI
Classifica per piattaforma
3DS
Posizione
Titolo
Publisher
1
YO-KAI WATCH 2 PSICOSPETTRI
NINTENDO
2
MIITOPIA
NINTENDO
3
POKEMON SOLE
NINTENDO
4
MONSTER HUNTER STORIES
CAPCOM
5
MARIO KART 7
NINTENDO
6
POKEMON LUNA
NINTENDO
7
SUPER MARIO MAKER
NINTENDO
8
METROID SAMUS RETURNS
NINTENDO
9
NEW SUPER MARIO BROS 2
NINTENDO
10
TOMODACHI LIFE
NINTENDO
DS
Posizione
Titolo
Publisher
1
POKEMON VERSIONE BIANCA 2
NINTENDO
2
IMPARA CON POKEMON AVVENTURA TRA I TASTI BUNDLE
NINTENDO
3
FACE TRAINING
NINTENDO
4
MUSIC MONSTAR
ANUMAN
5
INAZUMA ELEVEN 2 BLIZZARD
NINTENDO
6
MONSTER HIGH 13 DESIDERI
LITTLE ORBITS LLC
6
VIOLETTA MUSICA E RITMO
LITTLE ORBITS LLC
8
IL MIO COACH DI BENESSERE
UBISOFT
9
MINDSTORM
505 GAMES
10
MORE BRAIN TRAINING DEL DR. KAWASHIMA
NINTENDO
10
TRAINING FOR YOUR EYES
NINTENDO
10
FIZZ
LEXICORN ENTERTAINMENT
10
BEAT CITY
THQ
10
GORMITI: IL RITORNO DEI SIGNORI DELLA NATURA (+ FIGURINE)
KONAMI
PS2
Posizione
Titolo
Publisher
1
THE SIMS 2 ISLAND
ELECTRONIC ARTS
2
HIGH SCHOOL MUSICAL SING IT
DISNEY INTERACTIVE STUDIOS
3
PRO EVOLUTION SOCCER 2014
KONAMI
4
PRO EVOLUTION SOCCER 4
KONAMI
4
DISNEY PENSA IN FRETTA + BUZZER
DISNEY INTERACTIVE STUDIOS
6
HIGH SCHOOL MUSICAL SING IT
DISNEY INTERACTIVE STUDIOS
7
FOOTBALL MANAGER CAMPIONATO 2007
CODEMASTERS
7
WWE SMACKDOWN VS RAW 2007 (+ DVD)
THQ
7
PRO EVOLUTION SOCCER 6 CLASSIC
KONAMI
7
BEN 10 ULTIMATE ALIEN COSMIC DESTRUCTION
D3
PS3
Posizione
Titolo
Publisher
1
FIFA 18 LEGACY EDITION
ELECTRONIC ARTS
2
PRO EVOLUTION SOCCER 2018 PREMIUM EDITION
KONAMI
3
MINECRAFT
SONY
4
FIFA 17
ELECTRONIC ARTS
5
DRAGON BALL XENOVERSE ESSENTIALS
NAMCO
6
GTA V GRAND THEFT AUTO
ROCKSTAR GAMES
7
DESTINY IL RE DEI CORROTTI EDIZIONE LEGGENDARIA
ACTIVISION BLIZZARD
8
FIFA 13
ELECTRONIC ARTS
9
LEGO DIMENSIONS STARTER PACK
WARNER BROS INTERACTIVE
10
NBA 2K18
2K GAMES
PS4
Posizione
Titolo
Publisher
1
FIFA 18
ELECTRONIC ARTS
2
FIFA 18 RONALDO EDITION
ELECTRONIC ARTS
3
DESTINY 2
ACTIVISION BLIZZARD
4
OVERWATCH GAME OF THE YEAR
ACTIVISION BLIZZARD
5
CALL OF DUTY BLACK OPS III ZOMBIE CHRONCILES
ACTIVISION BLIZZARD
6
TOM CLANCY'S RAINBOW SIX SIEGE
UBISOFT
7
CRASH BANDICOOT N.SANE TRILOGY
ACTIVISION BLIZZARD
8
GTA V GRAND THEFT AUTO
ROCKSTAR GAMES
9
PRO EVOLUTION SOCCER 2018 PREMIUM EDITION
KONAMI
10
UNCHARTED L'EREDITÀ PERDUTA
SONY
PSP
Posizione
Titolo
Publisher
1
IL PADRINO PLATINUM
ELECTRONIC ARTS
2
GRAND THEFT AUTO CHINATOWN WARS
ROCKSTAR GAMES
3
IL MONDO DI PATTY
SONY
4
CRASH OF THE TITANS
ACTIVISION BLIZZARD
4
N+
ATARI
6
KOLUMN INTERNATIONAL
505 GAMESTREET
7
INVIZIMALS LE CREATURE OMBRA ESSENTIALS
SONY
8
GRAND THEFT AUTO LIBERTY CITY STORIES
ROCKSTAR GAMES
8
TOM CLANCY'S GHOST RECON 3 ADVANCED WARFIGHTER 2
UBISOFT
8
DYNASTY WARRIORS STRIKEFORCE
KOEI CORPORATIO
8
ASSASSIN'S CREED II BLOODLINES
UBISOFT
8
WIPEOUT PULSE ESSENTIALS
SONY
8
LEGO HARRY POTTER ANNI 1-4
WARNER BROS INTERACTIVE
8
VALKYRIA CHRONICLES II
SEGA
8
GOD OF WARCHAINS OF OLYMPUS
SONY
8
MONSTER HUNTER FREEDOM 2 ESSENTIALS
CAPCOM
8
PRO EVOLUTION SOCCER 2013
KONAMI
8
NEED FOR SPEED SHIFT ESSENTIALS
ELECTRONIC ARTS
8
ARMY OF TWO THE 40TH DAY ESSENTIALS
ELECTRONIC ARTS
8
FIFA 14
ELECTRONIC ARTS
8
FIFA 13 PLATINUM
ELECTRONIC ARTS
PS Vita
Posizione
Titolo
Publisher
1
DANGANRONPA V3 KILLING HARMONY
NIS
2
MINECRAFT
SONY
3
SWORD ART ONLINE HOLLOW REALIZATION
NAMCO
3
FARMING SIMULATOR 2018
FOCUS HOME
5
LEGO LO HOBBIT
WARNER BROS INTERACTIVE
6
LEGO MARVEL'S AVENGERS
WARNER BROS INTERACTIVE
6
YS VIII: LACRIMOSA OF DANA
SONY
8
LEGO BATMAN 3
WARNER BROS INTERACTIVE
9
FIFA 15
ELECTRONIC ARTS
10
THE LEGO MOVIE VIDEOGAME
WARNER BROS INTERACTIVE
WII
Posizione
Titolo
Publisher
1
JUST DANCE 2017
UBISOFT
2
MARIO KART SELECT
NINTENDO
3
NEW SUPER MARIO BROS SELECTS
NINTENDO
4
MARIO PARTY 9 SELECTS
NINTENDO
5
WII PARTY SELECTS
NINTENDO
6
FIFA 15
ELECTRONIC ARTS
7
WII SPORTS RESORT SELECTS
NINTENDO
8
WII SPORTS NINTENDO SELECTS
NINTENDO
9
SUPER MARIO GALAXY 2 SELECTS
NINTENDO
10
JUST DANCE 2016
UBISOFT
WII U
Posizione
Titolo
Publisher
1
MINECRAFT WII U EDITION
NINTENDO
2
DONKEY KONG COUNTRY TROPICAL FREEZE SELECTS
NINTENDO
3
CARS 3 IN GARA PER LA VITTORIA
AVALANCHE SOFTWARE
4
LEGO DIMENSIONS STARTER PACK
WARNER BROS INTERACTIVE
5
PAPER MARIO COLOR SPLASH
NINTENDO
6
SPLATOON
NINTENDO
7
NEW SUPER MARIO BROS + NEW SUPER LUIGI SELECTS
NINTENDO
8
LEGO CITY UNDERCOVER SELECT
NINTENDO
9
LEGEND OF ZELDA BREATH OF THE WILD
NINTENDO
10
WII PARTY U SELECTS
NINTENDO
NINTENDO SWITCH
Posizione
Titolo
Publisher
1
FIFA 18
ELECTRONIC ARTS
2
POKKEN TOURNAMENT DX
NINTENDO
3
MARIO + RABBIDS KINGDOM BATTLE
UBISOFT
4
MARIO KART 8 DELUXE
NINTENDO
5
LEGEND OF ZELDA BREATH OF THE WILD
NINTENDO
6
DRAGON BALL XENOVERSE 2
NAMCO
7
SPLATOON 2
NINTENDO
8
ARMS
NINTENDO
9
LEGO WORLDS
WARNER BROS INTERACTIVE
10
ONE PIECE UNLIMITED WORLD RED DELUXE EDITION
NAMCO
X-BOX 360
Posizione
Titolo
Publisher
1
FIFA 18 LEGACY EDITION
ELECTRONIC ARTS
2
PRO EVOLUTION SOCCER 2018 PREMIUM EDITION
KONAMI
3
MINECRAFT
MICROSOFT
4
FIFA 17
ELECTRONIC ARTS
5
DRAGON BALL XENOVERSE
NAMCO
6
GTA V GRAND THEFT AUTO
ROCKSTAR GAMES
7
LEGO DIMENSIONS STARTER PACK
WARNER BROS INTERACTIVE
8
DESTINY IL RE DEI CORROTTI EDIZIONE LEGGENDARIA
ACTIVISION BLIZZARD
9
NBA 2K18
2K GAMES
10
DUKE NUKEM FOREVER
2K GAMES
Xbox One
Posizione
Titolo
Publisher
1
FIFA 18
ELECTRONIC ARTS
2
FIFA 18 RONALDO EDITION
ELECTRONIC ARTS
3
OVERWATCH GAME OF THE YEAR
ACTIVISION BLIZZARD
4
FORZA MOTORSPORT 7 ULTIMATE EDITION
MICROSOFT
5
TOM CLANCY'S RAINBOW SIX SIEGE
UBISOFT
6
DESTINY 2
ACTIVISION BLIZZARD
7
MASS EFFECT ANDROMEDA
ELECTRONIC ARTS
8
CALL OF DUTY BLACK OPS III ZOMBIE CHRONCILES
ACTIVISION BLIZZARD
9
FOR HONOR
UBISOFT
10
TOM CLANCY'S GHOST RECON WILDLANDS
UBISOFT