Crash Bandicoot N'Sane Trilogy e The Sims 4 si confermano in vetta alle classifiche italiane anche per la settimana numero 27 che riguarda il periodo dal 3 al 9 luglio scorsi.
Su console, Crash Bandicoot N'Sane Trilogy continua la sua corsa su PS4 seguito sempre da Tom Clancy's Rainbow Siege e GTV. Quarto posto per Minecraft e quinto per MotoGP 17. In una top ten popolata da giochi su PS4 troviamo in decima piazza Mario Kar 8 Deluxe su Switch.
Anche su Pc la situazione è cristallizzata. Comanda, come detto, The Sims 4 seguito GTA V e da Call of Duty Black Ops II RE.
Vi lasciamo alle classifiche piattaforma per piattaforma diffuse da AESVI su dati GfK Retail and Technology. Buona lettura.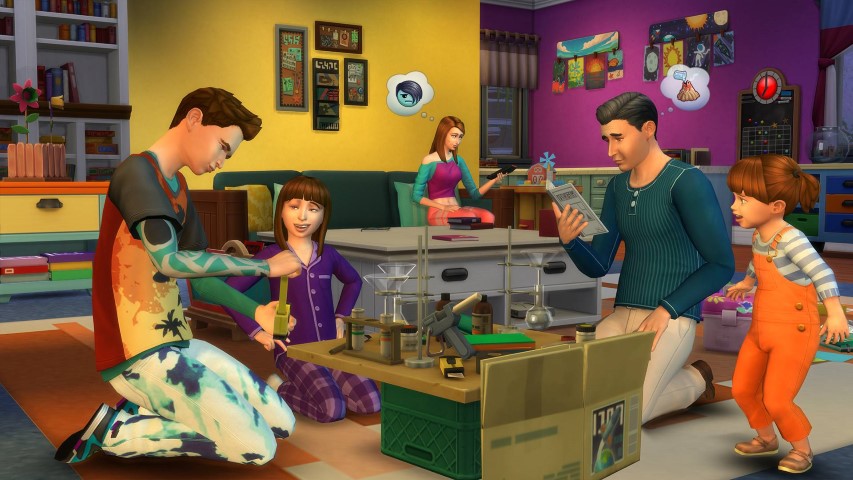 Classifica settimanale dal 03/07/2017 a 09/07/2017
TOP 10 CONSOLE GAMES
Posizione
Titolo
Piattaforma
Publisher
1
CRASH BANDICOOT N.SANE TRILOGY
PS4
ACTIVISION BLIZZARD
2
TOM CLANCY'S RAINBOW SIX SIEGE
PS4
UBISOFT
3
GTA V GRAND THEFT AUTO
PS4
ROCKSTAR GAMES
4
MINECRAFT
PS4
SONY
5
MOTOGP 17
PS4
MILESTONE
6
FINAL FANTASY XV
PS4
SQUARE ENIX
7
ROCKET LEAGUE COLLECTOR'S EDITION
PS4
505 GAMES
8
FOR HONOR
PS4
UBISOFT
9
RISE OF THE TOMB RAIDER 20 YEAR CELEBRATION
PS4
SQUARE ENIX
10
MARIO KART 8 DELUXE
SWITCH
NINTENDO
TOP 10 PC GAMES
Posizione
Titolo
Piattaforma
Publisher
1
THE SIMS 4
PC
ELECTRONIC ARTS
2
GTA V GRAND THEFT AUTO
PC
ROCKSTAR GAMES
3
CALL OF DUTY BLACK OPS II RE
PC
ACTIVISION BLIZZARD
4
CALL OF DUTY MODERN WARFARE 3
PC
ACTIVISION BLIZZARD
5
THE SIMS 4 LIMITED EDITION
PC
ELECTRONIC ARTS
6
FARMING SIMULATOR 17
PC
FOCUS HOME
7
CALL OF DUTY 4 MODERN WARFARE
PC
ACTIVISION BLIZZARD
8
FOOTBALL MANAGER 2017
PC
SEGA
9
CALL OF DUTY MODERN WARFARE 2
PC
ACTIVISION BLIZZARD
10
NEED FOR SPEED
PC
ELECTRONIC ARTS
Classifica per piattaforma
3DS
Posizione
Titolo
Publisher
1
POKEMON SOLE
NINTENDO
2
MARIO SPORTS SUPERSTARS
NINTENDO
3
POKEMON LUNA
NINTENDO
4
TOMODACHI LIFE
NINTENDO
5
MARIO SPORTS SUPERSTARS + CARTA AMIIBO
NINTENDO
6
SUPER MARIO MAKER
NINTENDO
7
MARIO KART 7
NINTENDO
8
MARIO PARTY ISLAND TOUR SELECTS
NINTENDO
9
YO-KAI WATCH POLPANIME
NINTENDO
10
YO-KAI WATCH POLPANIME SPECIAL EDITION
NINTENDO
DS
Posizione
Titolo
Publisher
1
PROFESSOR LAYTON E IL RICHIAMO DELLO SPETTRO
NINTENDO
2
INAZUMA ELEVEN 2 BLIZZARD
NINTENDO
3
MARIO KART
NINTENDO
4
LA GUIDA IN CUCINA CHE SI MANGIA OGGI
NINTENDO
5
IMPARA CON POKEMON AVVENTURA TRA I TASTI BUNDLE
NINTENDO
6
RHYTHM PARADISE
NINTENDO
7
DRAGON QUEST MONSTERS JOKER 2
SQUARE ENIX
8
PHINEAS AND FERB NELLA SECONDA DIMENSIONE
DISNEY INTERACTIVE STUDIOS
9
SCOTLAND YARD
DTP
9
POKEMON VERSIONE BIANCA 2
NINTENDO
PS2
Posizione
Titolo
Publisher
1
THE SIMS 2 ISLAND
ELECTRONIC ARTS
2
WWE SMACKDOWN VS RAW 2008
THQ
3
THE BIBLE GAME
505 GAMES
3
PRO EVOLUTION SOCCER 6 CLASSIC
KONAMI
3
SINGSTAR MOTOWN
SONY
3
PRO EVOLUTION SOCCER 2011
KONAMI
7
LARGO WINCH
UBISOFT
7
INTELLIVISION LIVES
PLAY IT
7
TIGER WOODS PGA TOUR 2006
ELECTRONIC ARTS
7
TOM CLANCY'S GHOST RECON 3 ADVANCED WARFIGHTER
UBISOFT
7
PRO EVOLUTION SOCCER 5 PLATINUM
KONAMI
7
PRO EVOLUTION SOCCER 6
KONAMI
7
HIGH SCHOOL MUSICAL 3 SENIOR YEAR DANCE
DISNEY INTERACTIVE STUDIOS
7
FIFA 12
ELECTRONIC ARTS
PS3
Posizione
Titolo
Publisher
1
FIFA 17
ELECTRONIC ARTS
2
MINECRAFT
SONY
3
PRO EVOLUTION SOCCER 2017
KONAMI
4
DRAGON BALL XENOVERSE ESSENTIALS
NAMCO
5
GTA V GRAND THEFT AUTO
ROCKSTAR GAMES
6
WWE 2K17
2K GAMES
7
LEGO MARVEL'S AVENGERS
WARNER BROS INTERACTIVE
8
NBA 2K17
2K GAMES
9
FAR CRY 4 LIMITED EDITION ESSENTIALS
UBISOFT
10
GTA SAN ANDREAS
ROCKSTAR GAMES
PS4
Posizione
Titolo
Publisher
1
CRASH BANDICOOT N.SANE TRILOGY
ACTIVISION BLIZZARD
2
TOM CLANCY'S RAINBOW SIX SIEGE
UBISOFT
3
GTA V GRAND THEFT AUTO
ROCKSTAR GAMES
4
MINECRAFT
SONY
5
MOTOGP 17
MILESTONE
6
FINAL FANTASY XV
SQUARE ENIX
7
ROCKET LEAGUE COLLECTOR'S EDITION
505 GAMES
8
FOR HONOR
UBISOFT
9
RISE OF THE TOMB RAIDER 20 YEAR CELEBRATION
SQUARE ENIX
10
INJUSTICE 2
WARNER BROS INTERACTIVE
PSP
Posizione
Titolo
Publisher
1
PRO EVOLUTION SOCCER 2011
KONAMI
2
N+
ATARI
3
LEGO PIRATI DEI CARAIBI
DISNEY INTERACTIVE STUDIOS
4
PRO EVOLUTION SOCCER 2013
KONAMI
5
GRAND THEFT AUTO VICE CITY STORIES
ROCKSTAR GAMES
5
CRASH TEAM RACING PLATINUM
ACTIVISION BLIZZARD
5
ARMY OF TWO THE 40TH DAY
ELECTRONIC ARTS
5
SPLIT SECOND VELOCITY
DISNEY INTERACTIVE STUDIOS
5
MICHAEL JACKSON THE EXPERIENCE
UBISOFT
5
GRAN TURISMO ESSENTIALS
SONY
PS Vita
Posizione
Titolo
Publisher
1
MINECRAFT
SONY
2
WORLD OF FINAL FANTASY
SQUARE ENIX
3
LEGO MARVEL'S AVENGERS
WARNER BROS INTERACTIVE
4
THE LEGO MOVIE VIDEOGAME
WARNER BROS INTERACTIVE
4
FIFA 15
ELECTRONIC ARTS
4
SWORD ART ONLINE HOLLOW REALIZATION
NAMCO
7
KILLZONE MERCENARY
SONY
8
ONE PIECE PIRATE WARRIORS 3
NAMCO
9
LEGO LO HOBBIT
WARNER BROS INTERACTIVE
10
J-STARS VICTORY VS+
NAMCO
NINTENDO SWITCH
Posizione
Titolo
Publisher
1
MARIO KART 8 DELUXE
NINTENDO
2
ARMS
NINTENDO
3
LEGEND OF ZELDA BREATH OF THE WILD
NINTENDO
4
1-2 SWITCH
NINTENDO
5
ULTRA STREET FIGHTER II THE FINAL CHALLENGERS
CAPCOM
6
LEGO CITY UNDERCOVER
WARNER BROS INTERACTIVE
7
JUST DANCE 2017
UBISOFT
8
SUPER BOMBERMAN R
KONAMI
9
HAS BEEN HEROES
GAMETRUST
10
PUYO PUYO TETRIS
ATLUS CO
WII
Posizione
Titolo
Publisher
1
JUST DANCE 2017
UBISOFT
2
NEW SUPER MARIO BROS SELECTS
NINTENDO
3
WII PARTY SOLUS SELECTS
NINTENDO
4
FIFA 15
ELECTRONIC ARTS
5
WII SPORTS RESORT SELECTS
NINTENDO
6
MARIO PARTY 9 SELECTS
NINTENDO
7
MARIO KART SELECT
NINTENDO
8
SUPER MARIO GALAXY 2 SELECTS
NINTENDO
9
SUPER SMASH BROS BRAWL SELECTS
NINTENDO
10
POKEPARK LA GRANDE AVVENTURA DI PIKACHU SELECTS
NINTENDO
WII U
Posizione
Titolo
Publisher
1
ANIMAL CROSSING AMIIBO FESTIVAL
NINTENDO
2
MINECRAFT WII U EDITION
NINTENDO
3
LEGEND OF ZELDA BREATH OF THE WILD
NINTENDO
4
SPLATOON
NINTENDO
5
JUST DANCE 2017
UBISOFT
6
LEGO DIMENSIONS STARTER PACK
WARNER BROS INTERACTIVE
7
LEGO JURASSIC WORLD
WARNER BROS INTERACTIVE
8
SUPER MARIO 3D WORLD SELECT
NINTENDO
9
LEGO MARVEL'S AVENGERS
WARNER BROS INTERACTIVE
10
WII PARTY U SELECTS
NINTENDO
Xbox 360
Posizione
Titolo
Publisher
1
FIFA 17
ELECTRONIC ARTS
2
MINECRAFT
MICROSOFT
3
GTA V GRAND THEFT AUTO
ROCKSTAR GAMES
4
PRO EVOLUTION SOCCER 2017
KONAMI
5
DRAGON BALL XENOVERSE
NAMCO
6
WWE 2K17
2K GAMES
7
NBA 2K17
2K GAMES
8
LEGO MARVEL'S AVENGERS
WARNER BROS INTERACTIVE
9
ASSASSIN'S CREED ROGUE CLASSICS PLUS
UBISOFT
10
WATCH DOGS
UBISOFT
Xbox One
Posizione
Titolo
Publisher
1
CALL OF DUTY GHOSTS
ACTIVISION BLIZZARD
2
TOM CLANCY'S RAINBOW SIX SIEGE
UBISOFT
3
GTA V GRAND THEFT AUTO
ROCKSTAR GAMES
4
HAS BEEN HEROES
GAMETRUST
5
RABBIDS INVASION LO SHOW TELEVISIVO INTERATTIVO
UBISOFT
6
MINECRAFT
MICROSOFT
7
FORZA HORIZON 3
MICROSOFT
8
MOTOGP 17
MILESTONE
9
FINAL FANTASY XV
SQUARE ENIX
10
CALL OF DUTY BLACK OPS III NUN3TOWN EDITION
ACTIVISION BLIZZARD